Having done Dine Out Vancouver for so many years now, frankly I'm feeling burnout. To me, a lot of the menus are not very inspiring; or I question the value for the money. So this year, I set out to try to discover gems that don't require you to pay $40 yet still feel hungry afterwards.
I was invited to bring a guest (guess whom I brought?) to sample the Dine Out menu of a Donnelly Group restaurant of my choice, including wine pairings. They are all $20 menus. After perusing them, I decided on the Granville Room. Why? I will get to that in a moment.
Food
There are two choices for appetizer. Naturally, we ordered one of each. The Coconut Fried Prawns were nice and crunchy. Mr. (ding-ding!) thought the coating was too thick to taste the prawns but I thought it's okay. The prawns had good texture, a bit bouncy and not mushy. What's intriguing is the dipping sauce. It's a coconut hoisin sauce. When it said hoisin I expected the sauce to be darker in colour, but it's just a tinted creamy white colour. It had a lot of coconut flavour but it's not too sweet thanks to the subtle use of hoisin sauce. The prawns themselves did not have any coconut; it's all in the sauce.
Wine pairing: Desert Hills Viognier – The fried prawns actually mellowed out the acidity in the viognier.
Beef Rib Empanada was also a hand-held appy. There were two pieces on the plate, served with a mole sauce. The sauce was rich, thick, and had some smokey flavour that didn't overpower everything. For some strange reason, the empanadas reminded me of the HK style curry beef samosas (咖哩角). I did find the empanada a bit greasy, though.
Wine pairing: Tinhorn Creek Merlot – A smooth red. Definitely worked well with the beef short rib.
I should note that both appetizer options here are on their regular food menu, except the portion is bigger on the regular menu. This served as a good preview of what you would get here outside of the Dine Out period.
For entree, there are 3 options, one of which is vegetarian. Well, can you figure out which entree we didn't pick?!
So let's get back to the reason why I chose Granville Room. The Fried Pork Belly. I mean, how can you say no to that? It was crispy, meaty, the fatty bits just melted in your mouth. It sat on a generous serving of chickpeas with some grilled kale. The acidity of the chickpeas helped balance the richness in the pork belly, but the flavour reminded me of the ketchup baked beans (茄汁豆) that I grew up eating in HK (what's with all these nostalgic memories?!)
Wine pairing: Tinhorn Creek Merlot – Same wine as the empanadas above. I really enjoyed it.
And then, we had the Meatloaf Grilled Cheese. I was expecting something like Mom's Grilled Cheese, but it wasn't as messy and gooey. The meatloaf was a bit dry for my liking, but the inclusion of caramelized onions add some moisture and sweetness. Mr. really liked it, but I enjoyed the pork belly more. That worked out perfectly. We didn't have to share our entree with the other.
Wine pairing: Quails' Gate Cabernet Sauvignon – It's a bit sharp on the palate at first sip. Needs a bit of aeration to smooth out the tannins.
For dessert, both Mr. and I picked the Coconut Panna Cotta as our favourite. It didn't have a heavy coconut flavour, but it's well balanced. It's actually nice that it's not overly gelatinous. I really liked the sweet peach compote and the crunchy crumble added some texture to the otherwise creamy panna cotta.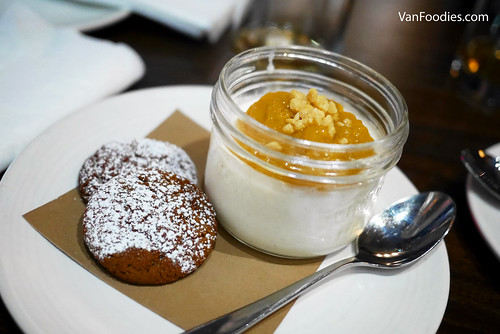 The Chocolate Praline Bar had an equal layer of chocolate praline and peanut butter, which is a classic flavour combo. It's nutty; the peanut butter layer was creamy, and the praline layer had a nice crunch. It was a bit too crumbly for me.
I should mention that the dessert didn't come with a suggested wine pairing. Instead, it's whisky. You can select 1oz of either Glenlivet Founder's Reserve or Monkey Shoulder. The Monkey Shoulder was smoother, but the Glenlivet was more flavourful. Funny enough, I liked the Monkey Shoulder and Mr. preferred the Glenlivet. We're such a perfect match!
Final Thoughts
The menu is not perfect, but for $20, the Dine Out menu at Granville Room is really good. Good value for your money. If you want the wine pairing for every course, that would be roughly $20 extra on your bill. My recommendation on menu combination? Coconut Fried Prawns + Pork Belly + Coconut Panna Cotta. Then get yourself a glass of the Merlot.
Granville Room
957 Granville Street, Vancouver
604-633-0056
donnellygroup.ca
Disclosure: The dinner was provided to us complimentary of the restaurant. However, the views and opinions expressed in this post are purely our own.